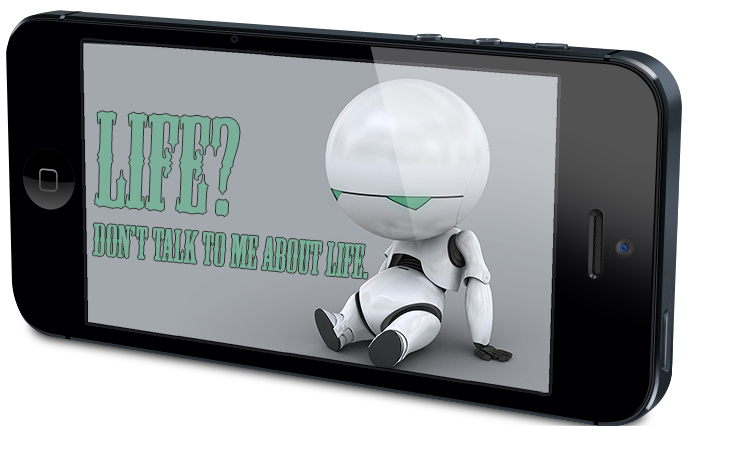 These days, you can't swing  Marc by Marc Jacobs laptop sleeve without hitting one article or the other about how dramatically smartphones have changed our lives. Chances are, unless you're really stubborn, and are really attached that that Blackberry Bold you picked up a few years ago, you can do pretty much anything you want straight from your phone without a second thought.
Your smartphone knows everything about you. It knows your favorite restaurant.  It knows all of your email addresses. It reminds you when it's time to get your heat-abused hair attended to. It knows what games you like to play, and it knows which of your friends are currently beating you at them. It stores all of your pictures, passwords, and notes.
Like clockwork, every two years, (or perhaps once a year, depending on our self-control and budget) we march ourselves to our provider of choice, and merrily hand over a few hundred dollars for a shiny upgrade with the ability to learn more from us, and make our lives just a little bit more compact and manageable. While we're at it,  we get neat cases and screen protectors. We sign binding contracts, and purchase costly insurance plans with minimal hesitation.
Why do we do this, you ask? Is it purely cultural pressure? Advertising at work? Yeah, maybe.
Here's what I think: Some of us may not be ready to admit it, but the truth is, we do it because our smartphones store more than just data. In a manner a speaking, our smartphones are where we store portion of our souls. Think about it the same way you might think about a picture of a loved one, a favorite book, or a song. Can your smartphone hold all of that? You know it can.
Sounds intense, doesn't it?
For me at least, there have been few times in my life when I have experienced such intense anxiety as when I thought my phone was lost, or more specifically, when my iPhone was actually stolen a few weeks ago.
Inevitably, most of us, have gone through it at some point or the other, and you'll probably agree that it is a nerve-wrecking experience. Most of us are distraught enough by the ordeal, that we just want it all to go away as soon as possible.
"What's that you say? You'll overnight a new phone, and I can recover all of my data? Yes, please! And how many of my children will you require in exchange?" is something like what most of us say during the first few hours or days following the loss of our smartphones. Like emotionally stunted overgrown children who are badly equipped to deal with loss, we rush to fill in the void left by our constant machine companions.
In my case, however, it wasn't so simple. The replacement smartphone I craved was not so readily available, and so I was forced to deal my smartphone withdrawal the old-fashioned way. That is, by lashing out at other people. Or in this case, the fine men and women of  the New York Police Department. They, who blithely informed me that as a loser, I was a weeper, and the person who stole my device, being the finder, was a keeper.
You think I'm kidding, but I'm not.
Just so you know, as long as whatever was stolen from you is valued at less than $1,000 or so, (ie: Every smartphone available to the general public) the police will take your report, file it neatly as a Petty Larceny, and proceed to never look at it again, unless the thief is randomly caught doing it again, and the police are able to connect it to the previous crime. In a word, BS.
Hey, don't look at me like that.  I'm not entirely blind to the logic there. Yes, it's true. You can't expect the police to chase down every iPhone thief out there. They are indeed a hot commodity, and they randomly misplaced every day.  But should we truly be so non-challant about it when they hold the soul fragments of so many? Shouldn't that kind of emotional stress be taken into account? How much is your soul worth, anyway?
Also, should thieves really get free passes that easily? Is this law-abiding citizen thing overrated or what? I'm starting to think Marvin is really onto something there. Maybe, it will all end in tears.